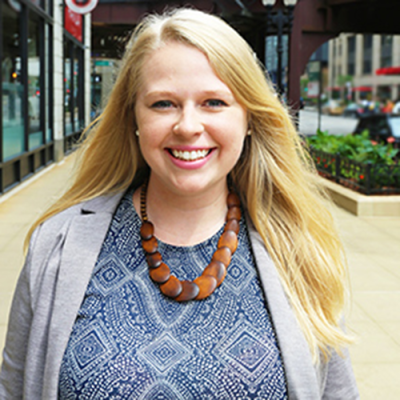 Senior Manager, Learning and Engagement, The To&Through Project
Alexandra (Alex) Ritson is the Senior Case Study Writer at the University of Chicago To&Through Project. In this role, Alex helps our team tell the stories behind the data we report, learning from the voices and experiences of students, families, teachers, counselors, and administrators. In her work, she conducts interviews, focus groups, classroom observations, and student shadowing to craft case studies intended to inform our work in the To&Through Middle Grades Network and with our partners in the postsecondary space.
Prior to joining the UChicago To&Through Project, Alex worked at OneGoal as the Senior Director of Curriculum and Training in Chicago for five years. She was also a teacher coach at Teach for America Chicago and a middle school and high school English teacher for five years in Phoenix, Arizona. She holds a Master's Degree in Education from Arizona State University and a Bachelor's Degree in English and Spanish from the University of Michigan. 
Alex is also a part of the 2022 Young Nonprofit Professionals Network Leadership Institute. Outside of work, she enjoys getting involved in local politics, exploring Chicago neighborhoods (especially restaurants, bars, and coffee shops), reading, and hanging out with her toddler. ​